Sexuality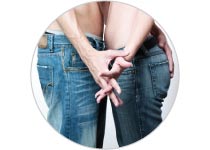 Bring out the pleasure in you!
Sensuality and safety join forces in the Sexuality category. Male and female pleasures are revived here thanks to our offer of lubricating gels, dietary supplements and other wild sexual toys.
With the additional reliability of our condoms, everything is in place to ensure that you spend an unforgettable moment.
ready for the experience of the condom 'new generation'?

Special Price

£5.70

Regular Price: was £6.50

Saforelle lubricant 30 ml lubricates and moisturizes sensitive mucous membranes or dry if sensations of intimate discomfort during sexual intercourse. Formulated...

Special Price

£7.60

Regular Price: was £8.90

A feeling of nothing to wear

Special Price

£6.40

Regular Price: was £6.80

gel lubricant that respects the sensitive mucous membranes.

Special Price

£4.60

Regular Price: was £5.50

Skyn Elite is a condom latex free, ultra-thin and soft.

Special Price

£6.70

Regular Price: was £7.50

Food supplement based on maca, ginger and ginseng.

Special Price

£5.40

Regular Price: was £5.70

Technology Sensophrene soft touch

Special Price

£6.50

Regular Price: was £7.40

Condom. standard c "is a classic but powerful."

Special Price

£7.60

Regular Price: was £8.90

Lubricant respondent and moisturizer Vaginal paraben

Special Price

£8.80

Regular Price: was £8.90

Vaseline pure, excellent to protect and soften the epidermis.

Special Price

£1.90

Regular Price: was £2.00

Designed for a shared orgasm

Special Price

£5.80

Regular Price: was £6.80

For a maximum of two partners stimulation

Special Price

£5.80

Regular Price: was £6.40

The largest of DUREX condoms and also has a contoured shape

Special Price

£5.90

Regular Price: was £7.90

The Durex Condom Real Sensation is innovative, ultra-sensitif and extra-lubricated for ever more shared pleasure.

Special Price

£5.90

Regular Price: was £6.70

Specially lubricated to prolong sexual arousal and the relationship

Special Price

£6.40

Regular Price: was £6.90

food supplement made from maca.

Special Price

£12.80

Regular Price: was £13.80

This oral solution allows you to regain vitality and power.

Special Price

£8.60

Regular Price: was £9.80

Paraben, edible, compatible with condoms

Special Price

£6.90

Regular Price: was £7.80

lubricant gel scented strawberry.

Special Price

£5.40

Regular Price: was £5.60

very thin condom and extra lubricated for maximum comfort and sensations.

Special Price

£5.80

Regular Price: was £6.40

A contoured shape "easy - on" to facilitate the establishment and provide maximum comfort and pleasure.

Special Price

£8.80

Regular Price: was £8.90

latex-free condoms, feeling skin against skin.

Special Price

£5.90

Regular Price: was £6.90

The Durex Play lubricant is made to enhance the pleasure and create a better sensual experience for both partners.

Special Price

£4.70

Regular Price: was £4.90

For an even more intense pleasure

Special Price

£6.80

Regular Price: was £7.90

Assortment of condoms latex free.

Special Price

£5.90

Regular Price: was £6.40