Man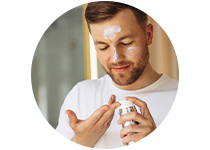 The well-being of a man!
Men care has its place here also, in our Man's category specially formulated for you. Gentlemen, you want to take care of yourselves?
Whether it be shaving, care or body hygiene products, your well-being is just a click away. And if you care about having the perfect body, go to our Slimness category.
shampoo Cystiphane acts against the occasional hair loss.

deodorant for men intense control.

Special Price

£11.20

Regular Price: was £13.40

Prolongs hair life, slows down hair loss, accelerates growth.

Special Price

£28.08

Regular Price: was £35.20

Spend £50 or more
Get 1 FREE Somatoline Bag!

Reduces the circumference of 2 cm in 4 weeks while you sleep

Special Price

£24.50

Regular Price: was £30.20

complement food slimming for men.

Special Price

£21.80

Regular Price: was £23.70

Buy 2 products
Get 1 Arnica Massage Oil 50ml FREE!

shower gel for men energizing.

Special Price

£4.60

Regular Price: was £5.70

Buy 2 products
Get 1 Arnica Massage Oil 50ml FREE!

Prepares sensitive shaving skin

texture Clay, clay texturizing strong fixing and malleable texture for tousled looks.

Special Price

£8.32

Regular Price: was £10.40

Anti-ageing skin care treatment to moisturise and tone your skin. Restores elasticity, leaving skin visibly younger.

Special Price

£17.70

Regular Price: was £19.70

Ripped Max Gel ABS is a gel vitalizer for ABS redesigned!

Special Price

£16.40

Regular Price: was £19.80

Buy 2 products
Get 1 Arnica Massage Oil 50ml FREE!

energising shower gel for men Weleda.

Body deodorant ball at the Oligo-Zinc. No alcohol or perfume

Special Price

£5.90

Regular Price: was £7.10

A formula 2 in 1 for a sensation of intense freshness, vitality and relaxation.

Special Price

£4.20

Regular Price: was £4.90

Soothes redness and the fire of the Shaver, or dautres reactions with shaving, in case of sensitive skin.

Special Price

£4.90

Regular Price: was £5.90

Instantly soothes irritations and helps to prevent bacterial risks on minor cuts from shaving. Antiseptic balm to protect skin.

Special Price

£11.30

Regular Price: was £13.40

Moisturizing, softening and soothing. Stimulates and regenerates the skin, a sensation of freshness.

Special Price

£10.90

Regular Price: was £11.20

Tonic, promotes the irrigation of the scalp, stimulates and strengthens the root.

Special Price

£8.20

Regular Price: was £9.30

shaving of hypersensitive skins, tough beards.

Special Price

£6.20

Regular Price: was £6.90

Light and creamy foam for excellent razor glide. Makes shaving more comfortable and soothes your skin.

Special Price

£3.60

Regular Price: was £3.90

Slows down the fall and stimulates hair regrowth.

Special Price

£15.80

Regular Price: was £18.30

Set pack to increase your hair volume and density.

Special Price

£56.80

Regular Price: was £79.30

Sensitive skin shaving cream-gel, anti-irritations. Soothing, anti-inflammatory and restorative care

Special Price

£5.60

Regular Price: was £5.90

Ultra-fresh deodorant

Special Price

£5.90

Regular Price: was £6.90

Buy 2 products
Get 1 Arnica Massage Oil 50ml FREE!

Protects and soothes

Energising gel with oak extracts and charm for all skin types.

Special Price

£15.20

Regular Price: was £18.30