Tests and Measurement devices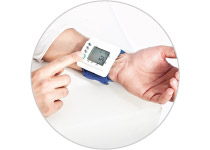 To evaluate your health with absolute autonomy !
From minor medical equipment to different self-testing kits, you can find here the tools for an accurate reading and a rigorous control of your medical condition.
Scales, urine tests, breathalysers... find all you are looking for in this category.
Thermometer has result in 10 seconds

Special Price

£2.30

Regular Price: was £2.80

Allows to control 4 parameters in the urine: Leucocytes, Nitrites, blood, protein

Special Price

£3.40

Regular Price: was £4.50

With detection of two hormones, 99% accurate Test of Ovulation Digital Clearblue identifies the 4 most favorable days for conceiving a child.

Special Price

£22.50

Regular Price: was £29.70

non-contact and forehead thermometer to measure accurately the temperature of babies, children or adults.

Special Price

£41.50

Regular Price: was £44.10

Thermometer electronic fast Express in 30 seconds

Special Price

£2.30

Regular Price: was £3.70

Soft tip, fast and accurate measurement 100% waterproof, easy to use.

Special Price

£2.00

Regular Price: was £4.50

Reusable temperature indicator

Special Price

£3.40

Regular Price: was £3.90

Thermometer to measure the oral, axillary or rectal temperature.

Special Price

£2.60

Regular Price: was £4.50

40 tips disposable ear for Braun Thermoscan thermometer

Special Price

£5.80

Regular Price: was £6.90

mini thermometer without contact, taken frontal temperature.

Special Price

£22.70

Regular Price: was £24.00

Thermometer tip flexible big screen 10 seconds

Special Price

£6.10

Regular Price: was £6.40

Blood pressure monitor wrist precision

Special Price

£27.70

Regular Price: was £28.70

digital thermometer to measure in 8 seconds and temperature accurately.

Special Price

£8.90

Regular Price: was £9.80

Green thermometer for a capture of the fast tempature and contactless.

Special Price

£31.50

Regular Price: was £36.60

forehead thermometer without contact.

Special Price

£31.50

Regular Price: was £36.60