Eye Care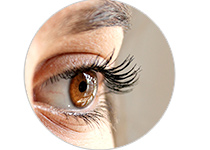 Here at Sanareva we offer a whole range of eye care products including eye drops, lubricant gels and spraysto soothe and protect your eyes from little daily nuisances like eye dryness or fatigue.
In fact, tired and dry eyes are conditions that have started arising in the last century. Screens, to give one example, are putting greater demand and stress on our eyes. Symptoms can include stinging, redness, the feeling of having something in your eye or even trouble wearing contact lenses.
Don't hesitate to contact us to get all our expert advice to get what best suits you!
Ophthalmic solution to quickly hydrate the eyes.

Special Price

£4.90

Regular Price: was £5.80

Eye mask to relieve pain from dry or swollen eyes.

Special Price

£6.40

Regular Price: was £7.90

Ophthalmic solution to relieve eye strain and irritation.

Special Price

£7.70

Regular Price: was £7.90

Eye drops to reduce eye tiredness and fatigue.

Special Price

£4.20

Regular Price: was £4.80

Aqualarm is an ophthalmic solution for dry eyes.

Special Price

£5.40

Regular Price: was £6.40

Eye lubricant to moisten and lubricate the eye to relieve dryness.

Special Price

£6.40

Regular Price: was £6.90

Sterile eye lubricant to relieve eye dryness. Preservative-free.

Special Price

£7.80

Regular Price: was £8.90

Is suitable for all types of contact lenses

Special Price

£6.90

Regular Price: was £7.60

Care soothing, eye contour

Special Price

£9.20

Regular Price: was £9.80

Blue Drops promotes relaxation and rest for the eyes.

Special Price

£5.40

Regular Price: was £5.90

Care soothing and decongestant eye contour

Special Price

£9.20

Regular Price: was £9.80

For vision sharper and more comfortable without having to remove the lenses

Special Price

£6.90

Regular Price: was £7.50

sensitive eye spray for dry eyes irritated or tired to moisturize the eye.

Special Price

£9.80

Regular Price: was £10.90

ocular lubricant to relieve drought oculaie in moisturizing the eye.

Special Price

£11.10

Regular Price: was £11.60

Relieves tired and dry contact lens wearers eyes

Special Price

£7.70

Regular Price: was £8.50

Ophthalmic solution to reduce eye redness and fatigue.

Special Price

£5.90

Regular Price: was £6.20