Solar Children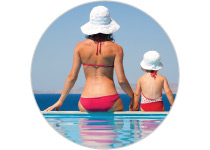 Protect your children from the sun!
With the sun, your children's skin which is more sensitive reacts differently. This is the reason why we offer creams and after-sun products with a high protection SPF, specially developed for children.
And for maximum safety, discover our ranges of sunglasses and UV protection garments.
Spend £49 or more
Get 1 FREE Bioderma Box!

Sunscreen the skin clear and delicate children.

Special Price

£11.30

Regular Price: was £13.50

Sun milk SPF50+ very high protection for children and sensitive skin.

Special Price

£7.90

Regular Price: was £9.90

Spend £49 or more
Get 1 FREE Bioderma Box!

restorative cream with sunscreen SPF50 +.

The perfect Kit to have for this summer

Special Price

£14.80

Regular Price: was £15.80

High sun protection for young children between the ages of 6 months and 3 years.

Special Price

£10.40

Regular Price: was £12.40

Spend £49 or more
Get 1 FREE Bioderma Box!

Cream solar mineral very high protection children without chemical filters

Special Price

£9.60

Regular Price: was £10.70

Spend £49 or more
Get 1 FREE Bioderma Box!

Milk solar child very high protection face and body

Sun milk for children high protection

Special Price

£12.60

Regular Price: was £18.30

child sun milk, high protection SPF 50

Special Price

£12.80

Regular Price: was £14.40

Cabinet Duet with bariesun children spray SPF50 + and diving goggles.

Special Price

£11.30

Regular Price: was £15.80

Spend £49 or more
Get 1 FREE Bioderma Box!

The safety of a very high UVA/UVB protection in a playful whipped foam.

Protects the skin from Sun and the harmful effects of the Sun blows.

Special Price

£11.40

Regular Price: was £13.80

kids sun protection SPF50, water resistant and easy application spray.

Special Price

£11.70

Regular Price: was £13.80

water resistant sunscreen for babies

Special Price

£9.60

Regular Price: was £9.90

High sunscreen for children.

Special Price

£11.80

Regular Price: was £14.40

child sunscreen and t-shirt anti-uv offered.

Special Price

£11.60

Regular Price: was £13.60